The day "11.11 Lazada Biggest One-Day Sale" we've been preparing all year for is finally here… It's…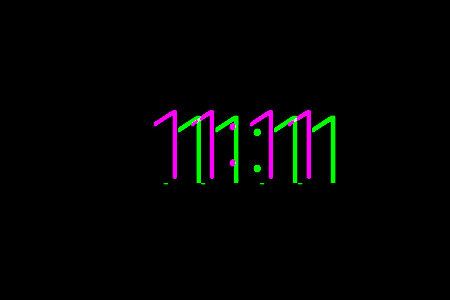 Are you as excited about 11.11 as we are? If not, it's time to get excited! In case you didn't know – the 11.11 sale is the BIGGEST sale of the year, and thousands of brands across South East Asia take part in it – including us! For one day only, we're offering huge discounts, extra vouchers and major deals to all our customers purchasing from us via our Lazada platform! And we're here to tell you about our top 5 sofas that are going on sale THIS 11.11!
What are the top five sofas worth buying in the 11.11 Lazada Biggest One-Day Sale?
1. Perth 3-Seater Water Repellent Fabric Sofa Bed
Our Perth Sofa Bed is one of our top selling sofa beds, with over thirty units sold in the last few weeks! This sofa bed features the classic square-arm design and happens to be one of the few fold-out sofa beds on the market that still even comes with sturdy, built in arm rests.
Apart from that, the soft, water-repellent linen upholstery is available in two gorgeous, neutral colours – a Pebble Grey, and an Ocean Blue, meaning that this piece will easily fit in with almost any home décor palette. Plus, it features two different locking positions, meaning that it can function as a sofa, a daybed, or something of a recliner for when you need to kick back and relax.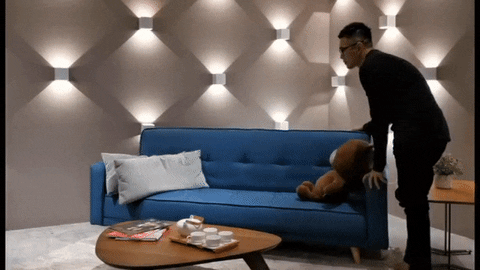 (Everyone say hi to Jeff again, who seems to be the only sofa model we have. Jeff count: 1/5)
2. Braxton Sofa Collection
Our Braxton Sofa collection is relatively new to the Lavino family – but that doesn't mean we love it any less! These sofas feature the timeless square arm design and wood look poly-plastic legs that embody all the best parts of minimalist Scandinavian design.
Upholstered in a soft, water-repellent linen fabric in a gorgeous light blue shade, the cushions on this sofa are removable - as are their covers. This makes keeping them clean infinitely easier, as you can just toss the cushion covers into the washing machine in case of any accidental spills or unsightly stains. Plus, they even come with free complementary pillows to really help tie your whole space together.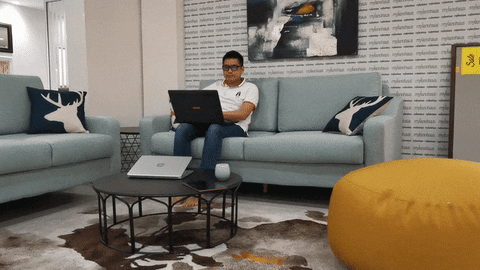 (Don't be fooled by the smiles, we basically had to beg our E-Commerce Manager to be in this video with Jeff. Jeff count: 2/5)
3. Sitine Velvet Fabric L-Shaped Sofa with Bar Storage and Cup Holder
If you've read some of our previous articles, this probably won't be the first time you're hearing the name of this sofa (and let's be honest here, it's probably not going to be the last). Our Sitine L-Shaped sofa is upholstered in a gorgeous velvet fabric that is soft to the touch, and the sleek, marble-like design ensures that this sofa will make a classy addition to your home.
Not to mention – this sofa comes with a convenient, soft-close bar storage compartment, which is the perfect place to store your snacks and TV remote on those movie nights. The conveniently placed cupholders also ensure that you'll have a place to securely put your drinks without having to worry about them spilling all over your sofa.
Not convinced? This sofa also comes with an additional two free small stools that can be stored in the sofa itself when they're not being used, and easily pulled out for when you have more guests over and need extra seating space.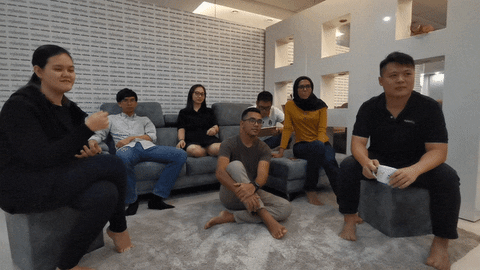 (Most of the time spent writing this article was used to convert all our promo videos into usable gifs. Also we finally found more people to be in our promo videos. Jeff is still there though. Spot him. Jeff count: 3/5)
4. Terre 3-Seater Water Repellent Fabric Sofa with Ottoman and Daybed Function
Much like the Sitine sofa, our Terre sofa is one that we've talked about on this website many times before – and that's because we truly love this sofa. Much like many of our sofas, the Terre sofa is upholstered with water repellent linen fabric in a lovely sky blue that is perfect for bringing a pop of colour to your living room (though, due to popular demand, it's now also available in a midnight blue colour).
As a sofa bed, Terre is wide enough to accommodate two people, and the pull-out bed is super easy to take out and put back. The cushions on this sofa are a little firmer, which is good for those who are looking for a sofa that's going to give them better spinal support for when they want to kick back at the end of the day. The movable ottoman gives you the freedom to place it wherever it's needed – and it can be used as an additional seating space, a leg rest, or even a coffee table! (Read our article on Furnishing a Small Space for more about how to use multi-functional furniture to your advantage).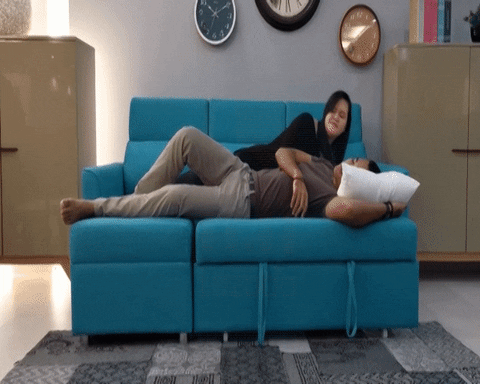 (Finally. Jeff count: 3.5/5. He's not actually in the gif, but he was there when this was filmed to give 'creative direction', so I'm counting it as half a point)
5. Basilica 3-Seater Water Repellent Fabric L-Shape Sofa
Last but most definitely not least, our Basilica L-Shape sofa. If you've been on our Facebook or Instagram over the last 24-hours, you've definitely seen this. Our Basilica sofa is one of our highest rated, best-selling sofas – and this 11.11, we're selling it at the lowest price it's ever been.
This sofa features soft, pocketed-spring seats that are the perfect firmness. They're not so soft that you feel like they're swallowing you up when you sit in them, but they're soft enough that you can come home and sink into your sofa at the end of a long day.
The simple, elegant, and refined design ensures that this sofa can fit in with almost any kind of décor – be it modern or rustic, and the water-repellent linen fabric upholstery helps protect this sofa from stains and spills. If you're worried about the location of the chaise lounge - don't be. We can customise it and change it to whichever side you'd prefer it to be on.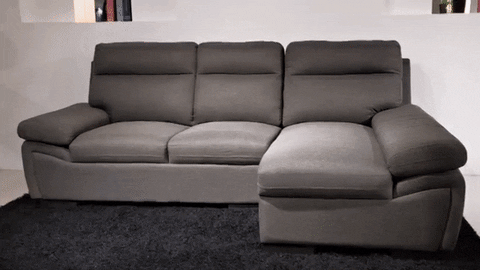 (Jeff count: 4.5/5. Jeff is basically all we have. Anyone wanna be a sofa model?)
Not into any of these 5 sofas? Don't worry – we've got plenty more products for you to choose from! Just head over to the 11.11 tab on our Lazada page to check out all our great deals! Don't miss out on all the amazing offers! This sale only happens ONCE A YEAR! Add these items to your cart NOW so you don't forget!
Don't forget that we offer:
14 Days FREE Return

Lowest Price Matching

FREE Product Warranty